Portable solar that'll give you peace of mind.
Our Portable Solar Blankets will change the way you camp. Folding up into one compact tile, our blankets are an ideal charging solution for those short on space. Constructed using A-grade monocrystalline solar cells with PERC technology, the blanket will produce up to 15.2A per hour. Perfect as a standalone charging option for setups running a standard 12V fridge and lights, or as a portable solution made to compliment a much larger setup, our blankets are a great choice for anyone from the casual camper right through to the 24/7 caravanners after an extra bit of power.
Designed to be setup in under a minute, the panel simply unfolds ready to be laid over the ground, bonnet, or windscreen, otherwise, use the tabs to tie it down in windy conditions or hang it from your awning. The panels come with a strengthened cell backing, and a strong 600D poly cotton exterior designed to keep the panel safe when you're travelling around the country.
PERC CELL TECHNOLOGY
Our solar blankets are made with an advanced cell technology known as PERC (Passivated Emitter and Rear Contact). Invented in Australia, PERC cells are significantly more efficient than conventional types, due to the addition of an extra reflective layer at the back of the cell.
This layer, known as a passivation and capping layer, sends unused light back across the solar cell to improve energy capture, as well as reduce heat caused by longer wavelengths that would otherwise impair the cell's performance.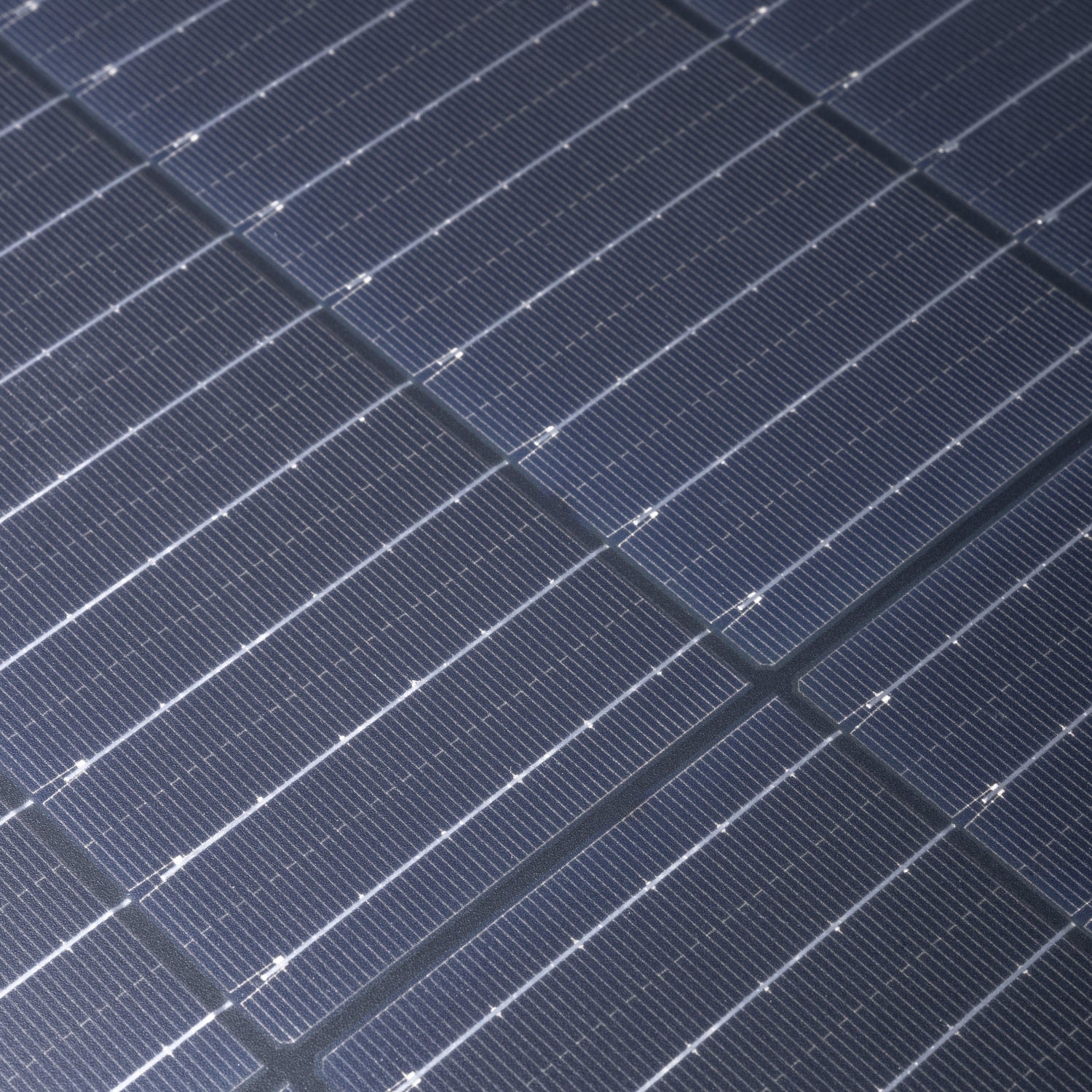 Key features
High-efficiency certified A-grade monocrystalline solar cells
Durable poly/cotton canvas
Handy tabs along the sides to allow it to be hung up, or tied down in windy weather
Includes everything you need to set it up including a 6m extension cable and battery clamps
All cables are terminated with Anderson-style plugs for easy setup
Includes detachable 5-stage digital PWM controller – charge AGM, Gel, Calcium, Wet cell, and Lithium batteries.
Want to know more?
We've written a comprehensive guide to portable solar for camping on our blog, which contains everything you need to know about buying and using portable solar. Click here to check it out:
The Hardkorr guarantee
All Hardkorr products are manufactured using the highest quality materials. We are confident that they are the most durable in the market and will give you many years of reliable service. We stand behind this product with a comprehensive 12 month Australian warranty and a 30-day money back guarantee.
Specifications
Materials
Poly/cotton canvas outer
A-grade monocrystalline silicon solar cells
Wattage
250W
Working max. voltage
20.88V
Working max. current
15.2A
Open circuit
25.53V
Short circuit
12.63A
Dimensions (folded)
420mm x 450mm x 100mm
Dimensions (unfolded)
1260mm x 1300mm
Weight
7.3kg (excl. controller & cables)
Operating temperature
-40°C to 85°C
Certifications
CE, RoHS, RCM (C-Tick)
Pack Contents
| | |
| --- | --- |
| 1x | 250w portable solar blanket |
| 1x | 20A PWM Solar Regulator |
| 1x | 6m lead with Anderson style plugs |
| 1x | 0.5m Anderson-style plug to battery clamp cable |